Naturally effective, rooted in science, proven to work
We develop clean, targeted sleep, skincare and wellness solutions that work in harmony with your body clock, 24hrs a day.
24 hour skin solutions
During the Night Phase, your skin moves into repair mode. Anti-inflammatory and anti-stress hormones are released, while the skin's dehydration level peaks due to trans-epidermal water loss (water loss through the skin). Production of melatonin is at its highest and stem cell reproduction occurs.
sleep & repair
what's trending
perfect for you
Discover our best-selling Perfect range. Designed to pamper, it's your secret to confidence and radiant skin.
shop now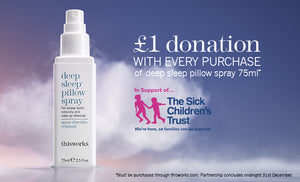 supporting The Sick Children's Trust
This festive period, This Works is donating £1 for every deep sleep pillow spray 75ml sold, to the Sick Children's Trust.
shop now
clean & natural
Expertly blended, highly natural formulations - free from GMOs, parabens, sulphates, phthalates and synthetic colours. All of our products contain 100% natural fragrance and are cruelty-free - targeted skincare that delivers with integrity.
proven to work
Our formulations are rigorously tested via independent user and clinical trials (and often fMRI brain imaging studies), so that we can say with confidence: 'This Works'.
agreed by our panel
The This Works Panel is our dedicated testing system of over 750 real people. At least 70% of our chosen panellists must agree 'This Works' before a product hits the shelves.